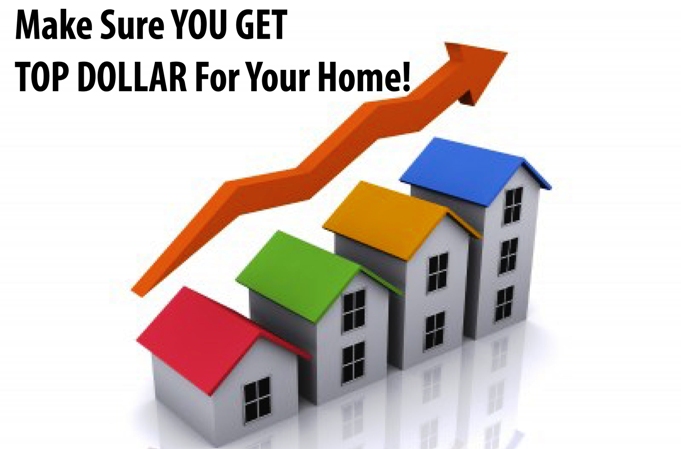 Getting Top Dollar for your Home doesn't mean selling your home for more than its really worth. Getting top dollar for your home means selling it at the top of the scale of what other 'like kind' properties have recently sold for in your area.
Having a closing ratio of over 97.5%, I have had agents and sellers ask me this question many times. How do you never have a Low appraisal? In a market filled with uncertainty and consistent low appraisals which is causing a record number of cancelled escrows. I tell them, I research the home and the surrounding market thoroughly and I'm brutally honest with my sellers. A lot of agents, just agree with what their seller's price wants to be, even if they know it's way too high, just to get or keep the listing, but as a professional this does more harm than good. Agent's need to be experienced in proper home valuing techniques, negotiators and great property marketers. Listing a property too high can cost the seller valuable time and loss of money. There is nothing worst than receiving an offer, opening escrow and waiting 19-21 days for the appraisal, just for it to come in low and then Buyer cancels the deal. The Seller now has lost 21 days probably had to make another mortgage payment, HOA Payment(s) and all utility bills and now must put the home back on the market at a lower price to just start showing it all over again. The Seller now is pressuring the agent to get another offer quickly. This scenario is even worst when there are multiple transactions at risk. For example, a Seller listing their house and is buying another house, that seller is doing the same and most likely that seller is doing the same. Because listing 1 was listed too high from the start, and the buyer cancelled due to a low appraisal 21 days later, now has delayed 6 other transactions and most likely causing all those Buyer's to pay additional fees to extend their deals and also costing the Seller's more money than they expected.
Home Seller's, I am telling you as an experienced real estate professional for over 16 years. It is so critical to listen to your agent on the market conditions, they should know the ins and outs of what going on in the real estate market and how to value a property correctly. Another thing is those valuation websites are never accurate stay way from those.
Here are some things to do to your home to make sure you do get Top Dollar.
CURB APPEAL
Paint the exterior or at least have the front exterior pressure washed.
Degrease and pressure wash driveway.
Front landscaping to be alive and organized.
Trees and bushes trimmed
Clean exterior windows and screens
CLEAR THE CLUTTER
Remove all unnecessary articles from your closets and garage. Spacious rooms and large storage spaces are a great selling feature.
Get rid of family pictures, trophies, and knickknacks. Closets and cabinets should be no more than 30% full.
Consider having a garage sale to dispose of unwanted items.
Look into renting storage for larger items or boxes of things you aren't ready to part with but don't use every day. Include your favorite trinkets and excess ornaments. They won't have the same sentimental value to potential buyers and only distract from your home.
Look around your home to determine where you can reduce a cluttered appearance
CLEANLINESS Give the buyer the impression that your home has been well maintained
Clean windows interior and out
Clean all appliances.
Clean Shower wall to remove soap residue and calcium build up
Steam clean Tile and Carpets or replace carpets if needed.
Clean light fixtures to remove dust and make sure all bulbs are working
Clean ceiling fans to remove the dust and make sure they are operational.
Often missed, but often checked by buyers...make sure the top of your door and window trim is dust free
Garage items should be neatly stored on shelves and organized
Often painting the walls will give it a fresh look
MAINTENANCE ITEMS
Repair or replace all faucets if their outdated or leaking.
Repair knobs or handles on drawers if they are broke or outdated
All Caulking should be new with no mildew or mold stains
Any loose trim around the house should be properly attached
Door knobs that don't lock or turn correctly should be replaced
All doors need to be operational and not squeaky
Loose railings should be tightened.
HVAC Air Filters should be new
HVAC should be a good working order
Garbage disposal needs to be operational
Bathroom exhaust fans to be operational
Toilets should be tight to the floor
Window latches should work properly
Water heaters must have earthquake straps installed
BACKYARD
Clean and Organized
No Dog poop
Tree and bushes trimmed
if there is a pool make sure its operational and clean
Irrigation is operational and not leaking